The technique of Silat Perisai Diri is generally can be divided into several
individual techniques (Tehnik Asli). Each individual technique has its own style.
Below is the list that makes them different each other.
The combat system.

The control of body movement and body shifting.

How to control the body weight in particular position.

Energy transferred during blocking - How much power we need to block
certain attack.
attacking using hands, feet and body.
The variety of jumping technique.

Breathing exercise, power expansion and power explosion.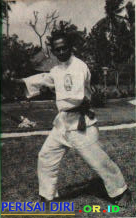 One of Human Technique
- Tehnik Pendeta -
In overall, those techniques can be divided into two categories: Animal techniques and Human
techniques. Our curriculum was set up to train the technique systematically. Based on the level,
members will be trained starting from animal techniques and finishing at human techniques.
The names of those techniques are listed below: